ETSI EN 300 019-1-4 V1.1.2
Environment Testing according to ETSI EN 300 019-1-4 V1.1.2
We reliably offer all testing services required for complying with the standard ETSI EN 300 019-1-4 V1.1.2 .
By builing our own test center with the most state-of-the-art equipment at our site in St. Ingbert, Germany, we laid the foundation to test your products with German precision and thoroughness.
We happily invite you to join us on location to accompany and monitor the testing procedures in person. Our team of specialists can look back on 20 years of testing experience and thus offers a tremendous amount of expertise to reliably test 100 percent conformity against ETSI EN 300 019-1-4 V1.1.2 .
Standard Information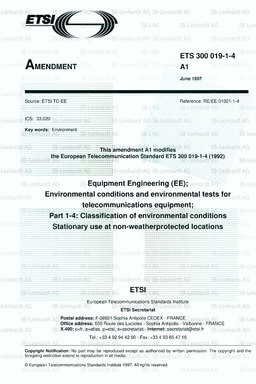 Institute
ETSI

Version


Issue
1997-06-01


Accreditor
DAKKS / ILAC

Accredited
No

Test Duration
On Demand


Short description
Equipment Engineering (EE); Environmental conditions and environmental tests for telecommunications equipment; Part 1-4: Classification of environmental conditions Stationary use at non-weatherprotected locations