Industry 4.0 Intelligent Systems
Regulatory Testing of Automation Systems
You want to get your wireless communication system tested? Or has your company just developed a new radar technology that needs to be certified for market access? Then you have come to the right place.
Get in touch with us.
Radio Communication Devices
Industrial Wireless Systems
Intelligent wireless communication systems and its components with real-time communication, such as RFID or wireless IO-Links, are also more and more being used in Industry 4.0 to optimize automation processes. These wireless systems are heavily stressed in industrial environments and are exposed to a wide variety of conditions, such as metal environments, temperature fluctuations or other environmental influences and torsional forces. The reliability, latency and transmission rate requirements of these industrial systems are therefore subject to the highest demands.
To provide your customers with flawless technology and transparency, we run your products and solutions through numerous regulatory tests and audits based on specific directives to ensure compliance for commercialization.
Intelligent Technologies
RFID System & IO-Link Wireless
RFID stands for "Radio Frequency Identification" and means an intelligent system for industry automation using electromagnetic fields and radio frequency tranmissions. Objects and products can be clearly assigned and also tracked with the help of this technology, and the transparency of the respective production steps is ensured in this way.
The application areas of RFID systems are countless from identification and monitoring of living beings and objects, recall control and anti-piracy to access control, sensor technology and payment systems.
RFID systems are often used together with wireless IO-Link network modules to evaluate the data. An IO-Link Wireless is a brand name and at the same time the first international standardised IO technology (IEC 61131-9) for the communication with sensors and also actuators to set up intelligent solutions for industrial automation. IO stands for Input-Output and enables the end-to-end communication and digital data transmission between wireless IO-Link devices and sensors.
Testing Scope
Importance of Regulatory Product Testing
RFID systems and wireless IO-Link-modules are important elements in modern industrial productions, which are exposed to adverse, harsh conditions, which in turn makes comprehensive testing according to global industrial standards essential. This is where we come in.
IB-Lenhardt AG offers a wide range of testing services for international approvals and certifications of your product. Getting yours ready for the worldwide market. Contact us right now.
WLAN
WLAN testing according to standard IEEE 802.11

Bluetooth
Regulatory tests and certification according to the Bluetooth SIG specifications in the 2,4 GHz frequency band

RFID
Testing in the frequency ranges: HF 13.56 MHz - LF 70/455 kHz - LF 125 kHz

Radars
Frequency ranges: 24 GHz - 60 GHz - 120 GHz band; Vehicle radar frequency ranges: 24 GHz, 76 GHz and 79 GHz

Qi - Wireless Charging
As a member of the Wireless Power Consortium we offer Qi testing for devices with 5-15 W
Send us your inquiry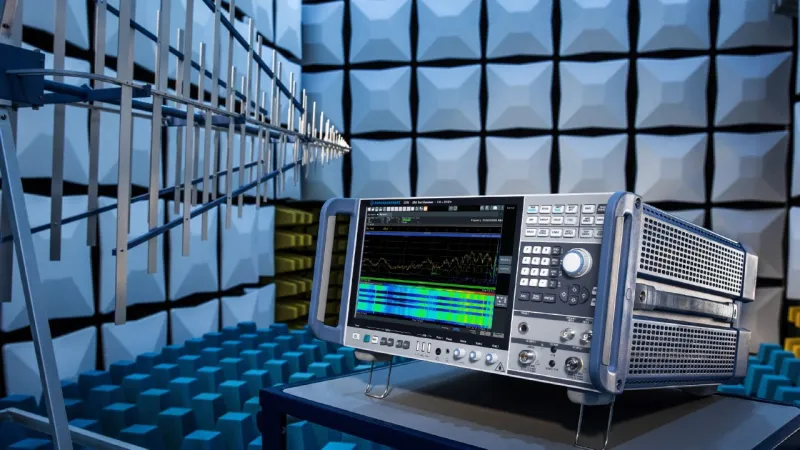 Compliance Testing
Innovative Radio Systems require Innovative Solutions
In our DAkkS-accredited laboratories we provide comprehensive regulatory testing and certification services according to local directives as well as global standards to secure reliable operation of your product within the industrial environment. We are an internationally recognized certification body for EU, FCC, ISED an MIC certifications.
As your one-stop partner we ensure the interoperability of your industrial automation system components and wireless communication systems.
Frequently Asked Questions
All you need to know about intelligent communication technology
What does Industry 4.0 mean?

Industry 4.0 is the name given to a future project for the comprehensive digitalization of industrial production in order to better equip it for the future. It refers to the intelligent networking of machines and processes in industry with the aid of information and communication technology.

Why is Industry 4.0 so important?

Digitization and Industry 4.0 enable completely new organizational and control options for the entire supply chain. Production is becoming significantly more dynamic, efficient and individualized. This will result in enormous growth opportunities for Germany as a business location.

How does a RFID-system work?

RFID is the contactless exchange of data between an RFID transponder and an RFID reader device. For data transmission, the RFID reader builds up a magnetic or electromagnetic field that supplies the passive RFID transponder with energy. As long as the RFID transponder is in the electromagnetic field of the RFID reader, it is supplied with energy and data can be exchanged. Information can be read from the chip of the RFID transponder, but new data can also be stored on the chip.

How does an IO-Link Wireless work?

An wireless IO-Link is actually an automated communication system in which sensors and actuators are integrated. The individual components of the system are called IO-Link master (control unit) and IO devices (sensors, actuators). The master receives and processes signals that it obtains from the sensors and actuators. The communication is based on the proven 3-wire connection method. Additional cable material is not necessary.

What are the advantages of an IO-Link Wireless?

The advantages of an IO-Link Wireless are flexibility and responsiveness with a transmission rate of 1 byte/5ms as well as reliability with a maximum packet data error rate of 10⁻⁹. Furthermore a scalability is possible by integrating up to 40 IO-Link devices. And obove all, with IO-Link Wireless, there is the integrity of an international standard.

What are the application areas of the IO-Link Wireless?

One of the application areas of IO-Link Wireless are robots, robot arms and transport systems. Others include upgrading your existing machinery and equipment. Even in harsh environments such as food processing or welding, wireless automation ensures reliable control of your machines and systems.
Your global testing partner
Contact Us Today
Our experts are well acquainted with the recognized international guidelines and ensure conformity, performance and safety of your Industry 4.0 systems and components. Contact us and send us your inquiry.
Get in touch