Qi Testing and Certification
We offer reliable, transparent, fast and economical solutions for the global market access of Qi-certified devices. Our state-of-the-art test laboratory and our expert knowledge guarantee you all essential regulatory tests and certifications from a single source.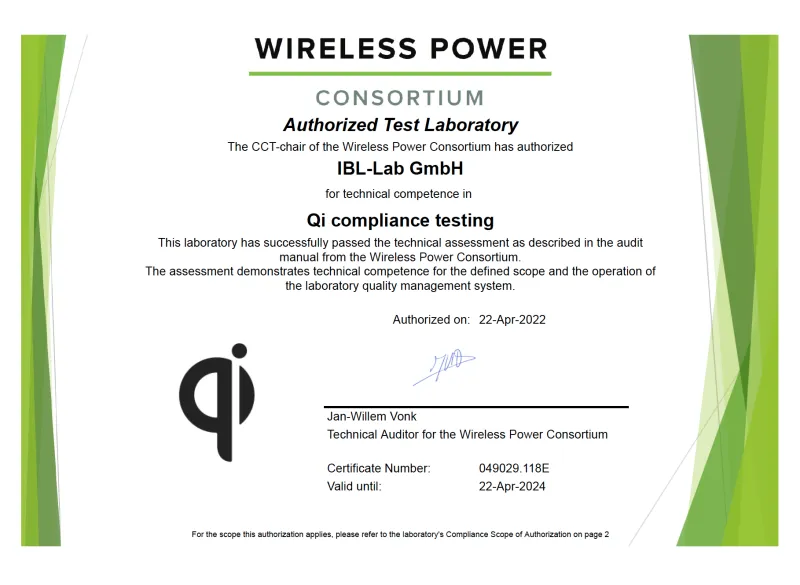 Improved New Standard
Qi2 for Wireless Charging Devices
The market of wireless charging for mobile devices, often called inductive charging, is growing rapidly. And the advantages are obvious. The ability to charge our device from anywhere eliminates the hassle of carrying cables and searching for sockets. Whether in the car, at work or at home, contactless charging is sustainable and soon to be expected as a commodity feature.
In 2014, the Wireless Power Consortium (WPC) began developing the Qi standard for wireless charging up to 15 watts. In 2018, the extended power profile (EPP 15W) was released. In this year (2023), the WPC has announced the new, improved Qi2 wireless charging standard. In addition to the proven profiles BPP and EPP, a new magnetic power profile (MPP) is currently under development. It builds on Apple's MagSafe technology and enables faster and more efficient wireless charging, as well as the ability to charge devices not just from Apple.
Insight Lab
Innovative Wireless Charging Technology
In this video, we introduce you to our advanced Qi2 test environment. The magnetic charger is designed to optimize device positioning for improved charging performance.
Stay up to date with the latest wireless charging technology and contact us for updates.
Official Qi Certification in our Test Lab
Since 2022, our subsidiary IBL-Lab GmbH participates in the WPC-development process of the standards as a "regular member" and provides support with technical questions as an Authorized Test Lab (ATL). In order to be ready as soon as the new standard is officially approved, the test lab is already in the process of refitting the test environment in close cooperation with nok9 to adapt MPP as part of our compliance testing services.
If you want your product to be Qi compliant, the testing and approval regulations of the WPC must be fulfilled. Contact us right away to get all necessary information. 
Get in touch
The Qi Certification Process
Get your wireless charging devices certified and become a member of the WPC (Wireless Power Consortium). Be part of this leading and innovative industry.
01
Become a member of the WPC and submit all required documents (self-declaration form)
02
Pre-compliance and subsequent compliance testing in our Authorized Test Lab (ATL)
03
Shipment of samples to interoperability testing lab by us
04
Registration of your product in the Qi certified product database. Awarding of Qi symbol by WPC
05
Congratulations, you are now Qi certified and ready to launch your product
Official Qi Certification
Base Stations & Mobile Devices
Baseline Power Profile (BPP) 5 Watts

Extended Power Profile (EPP) 15 Watts

The Qi Wireless Power Transfer System Power Class 0 Specification / Part 3: Compliance Testing / Version 1.2.4 February 2018

Qi Specification / Power Receiver Compliance Tests

Version 1.3 January 2021

Version 1.3.1 August 2021

Version 1.3.2 December 2021

Version 1.3.3 November 2022

Qi Specification / Power Transmitter Compliance Tests

Version 1.3 January 2021

Version 1.3.1 August 2021

Version 1.3.2 December 2021

Version 1.3.3 November 2022

Qi2: Upcoming in 2023 and available in our testing scope area. Learn more about Qi2 and contact us for more information.
International Certifications
Worldwide Type Approval
With our established processes we guarantee a smooth and fast market access of your Qi product. Our experienced experts support you during the entire product certification process.
Learn more about our Certification Bodies.
Authorized Test Lab by WPC
Our Services
Regulatory Wireless Power Transfer Testing
For products with wireless charging capability, like IoT devices, automotive infotainment and even household appliances, regulatory testing is the prerequisite for successful market approval. 
For the European market, the following standards, which are monitored by the RED (Radio Equipment Directive), must be met:
Radio Testing: DIN EN 303 417
Which test of the standard has to be performed depends on whether the device is a transmitter (chargers) or a receiver.

EMC Testing: DIN EN 301 489-1 and 301 489-3
These tests include EMI (Electromagnetic Interference) and EMS (Electromagnetic Susceptibility).

Safety Testing: DIN EN 62311 oder DIN EN 62368-1
For a market approval in the USA, the standards FCC 47 CFR Part 18 and/or Part 15, among others, are the basis for the regulatory tests.
Do you need Assistance?
Contact our experts for Qi Testing:
nok9 CATSII System
Qi Testing Services with state-of-the-art Equipment
The nok9 CATSII system present for testing at IBL-Lab, is the only fully WPC-authorised testing system available on the market of test tool vendors. Due to the close support of nok9, we can provide the latest updates of the Qi environment and proprietary standardisation schemes like SAMSUNG also. Both base stations or mobile device can be tested for pre-compliance / debugging sessions and can proceed seamlessly to compliance testing on short notice.
Qi: Worldwide Market Development
Advantages of Wireless Charging
Consumer Electronics
User-friendly

Easy wireless handling

Simultaneity

Several devices at the same time

Consistency

One charging station for all devices

Design

Optical advantages for devices integrated in furniture and objects

Flexibility

Possibility of complete encapsulation

Future proof

Portable devices are enjoying increasing popularity and are moving towards wireless charging

Customer-focused

Consumer demand for user-friendly charging options

Conformity

Compliance with the forthcoming EU regulation "uniform charging of mobile devices"
Frequently Asked Questions
All you need to know about Qi and wireless charging
What does Qi stand for?

Qi (pronounced "chee") is japanese and literally means "life energy". Since 2008 Qi has been considered the wireless charging standard of electronic devices with a power ranging from 5 to 15 watts. This allows various devices to be charged wirelessly over short distances. The private Wireless Power Consortium (WPC) developed and maintains this standard. There are now around 9,000 Qi-certified products on the market.

What is the Wireless Power Consortium (WPC)?

The Wireless Power Consortium (WPC) is the standards organization responsible for developing and managing the Qi standard. A Qi certification ensures the safety, reliability, interoperability, and power efficiency of a device. It also ensures that the product has undergone rigorous tests to meet these standards. Moreover, Qi certified devices work seamlessly with each other, regardless of their make or build version. Currently, the WPC boasts of more than 350 member companies, including the likes of tech giants such as Apple, Google, Samsung, Facebook and many more. Our subsidiary company, IBL-Lab GmbH, is also a proud member.

Why is Qi Certification important?

The Qi Certification serves as a quality feature of devices with wireless charging function. It ensures that the respective wireless devices function properly in terms of safety, interoperability, energy efficiency and user-friendliness through various rigorous testing procedures carried out in authorized test laboratories. Compatibility ensures that all certified devices from a wide range of manufacturers and countries of origin work together. Heat protection and foreign object detection are just two of a number of safety precautions included in the Qi standard. In addition, only Qi-certified products are allowed to carry the Qi logo.

Which devices support Qi and how do I know if my device is Qi certified?

Devices with a power range of 5 to 15 watts can be equipped with the Qi standard. These include smartphones and tablets, but also headphones, PC monitors, power banks, smartwatches and other devices. Even backpacks and furniture that have integrated power banks are on the market as Qi-certified devices. Currently, WPC is working on a higher performance of the Qi standard to be able to charge laptops and tablet computers with this technology as soon as possible. All products and packaging carrying the Qi logo are Qi certified. Only this ensures that all required tests have been run and successfully passed.
Contact Us
Qi Wireless Testing
We gladly perform tests tailored to your special demands and support you along the evolution of your product through development-accompanying tests. Send us your inquiry!
Get in touch