CE Marking
CE marking is the key to the successful market entry of your radio and wireless equipment in the European Economic Area. Benefit from our excellent testing services and the many years of experience of our experts.
EU DIRECTIVES
CE Certification Process for the European Union
Conformity assessment procedure, declaration of conformity, CE label: if you have successfully cleared these hurdles, your product is ready for the European market. As a Notified Body (NB No. 2784), we are authorized by RED (Radio Equipment Directive), through our subsidiary KL-Certification GmbH, to verify and validate the conformity of radio products to be sold on EU markets. To obtain CE marking, radio technologies such as Bluetooth, WLAN and Wi-Fi, car transmitters or other telecommunication systems must meet the requirements set out in the RED.
Request a quote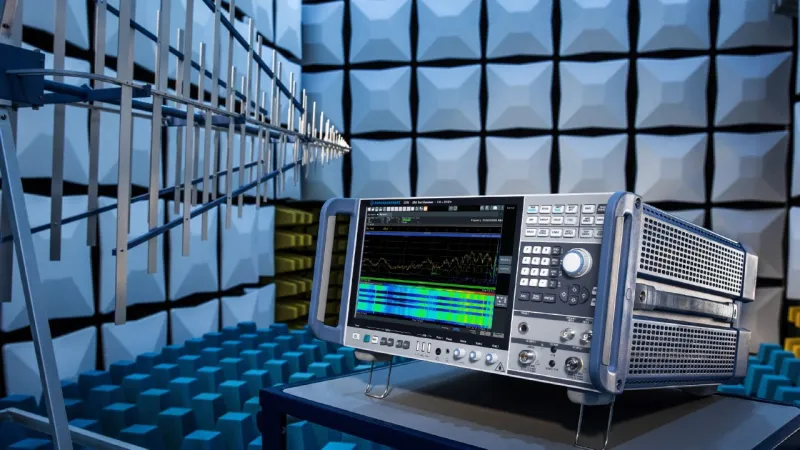 REGULATORY RADIO TESTING
Product Certification for Radio Products
2014/53/EU: Radio Equipment Directive (RED)
Effective and efficient use of radio frequencies to avoid harmful interference
2014/30/EU: EMC Directive
Determination of how electromagnetic compatibility is to be carried out for electrically operated equipment
2014/35/EU: Low Voltage Directive
Conformity procedure for defining the requirements for electrical equipment
Product Compliance
CE Marking Process
01
A representative sample is tested in our accredited testing laboratory (ATL)
02
The technical construction file (TCF) must contain a risk assessment
03
Issue of the Declaration of Conformity (DoC): If no harmonized standard is applied, a Notified Body (NB) must be involved
04
CE labeling with attention on updates of applied standards
Our Services
Whether you have questions about the testing procedure, uncertainties regarding the essential requirements or the labeling obligation, we support you with expertise and many years of experience. Based on the product documentation provided by the customer, we issue a Technical Examination Certificate (TEC) or Declaration of Conformity (DoC) and CE marking, ensuring smooth and compliant access to markets in the European Union.
Request a quote
Consulting
Benefit from our many years of experience already in the development phase of your products.
Testing
As an accredited testing laboratory, we offer testing services according to the highest quality standards and norms.
Certification
We take care of the complete certification process and bring your product successfully to the market.
Do you need Assistance?
Get in touch with our Type Approval specialist for the EU: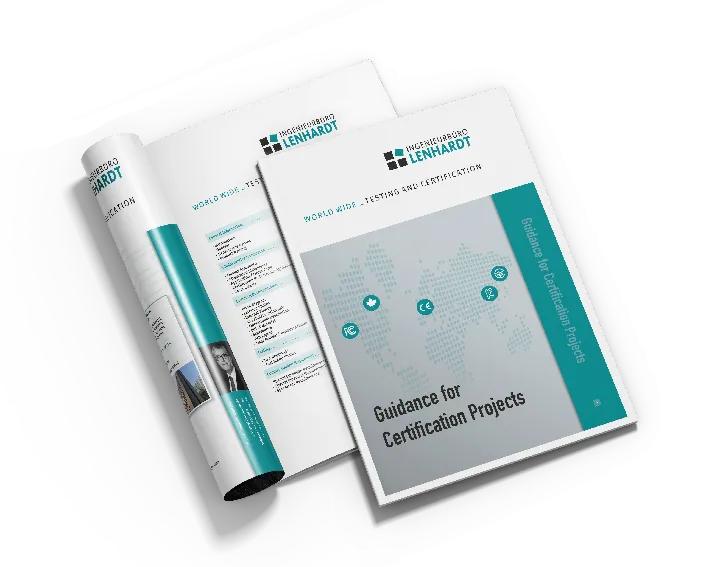 Whitepaper
Everything you need to know about Product Certification
Download our comprehensive guide now that will show you all the requirements for successful certification. Learn all about administrative and technical documents as well as country-specific requirements for Europe, Japan and FCC.
Get the Whitepaper
CONFORMITY ASSESSMENT PROCEDURE
CE Marking Requirements
The performance of conformity assessment procedures is regulated in Decision No. 768/2008/EC. Annex II contains a number of modules according to which the assessment can be carried out. The selection of the appropriate module is primarily determined by the directives to which the particular product is subject. These directives regulate the scope of testing and the test methods used to demonstrate the conformity of products.
In addition to specifications for product certification, they may also contain requirements for quality assurance within the company and the involvement of third parties. In this case, the notified bodies come into play. For example, as part of an EU type examination, they determine whether the technical design of a product meets the requirements of the applicable legal regulations. National accreditation bodies (e.g. Deutsche Akkreditierungsstelle GmbH, DAkkS) regularly check whether the Notified Bodies have the necessary competences and technical equipment for reliable test results.
Proof of Conformity with Harmonized Regulations
One basis for the free movement of goods in the EU are binding directives (harmonization legislation) for the safety of a wide range of products. For example, Directive 91/263/EEC applies to telecommunications terminal equipment, Directive 89/336/EEC to electromagnetic compatibility, and Directive 2014/53/EU to radio equipment.
A distributor or importer may place products covered by one or more of these directives on the market only if they meet all applicable minimum requirements. The manufacturer confirms this in a declaration of conformity. Proof is provided in a precisely defined, sometimes very complex conformity assessment procedure. The CE marking, also known as the conformity marking, indicates that this procedure has been successfully completed.
Technical Files, Declaration of Conformity and Conformity Marking
During the conformity assessment procedure, the manufacturer prepares a set of technical documents that show that the product meets the requirements of the applicable CE directives. This includes a detailed product description, the listing of the underlying harmonized standards and the test reports.
On this basis, the manufacturer issues the written EU declaration of conformity. This is the prerequisite for affixing the CE marking, which the manufacturer must have made on each individual product.
Automotive Radar
Worldwide Homologation
Our radio and radar test solutions for the automotive industry offer you reliability, precision and fast results. We have built a strong network of customers and partners to ensure access to all markets. Join our community and help shape the automotive future.
Assistant Systems (ADAS)
Vehicle radar systems in the 77 and 79 GHz frequency ranges, such as distance radar, blind spot radar, parking and lane departure warning systems
Telematic
Kick sensors, tire pressure sensors, radio remote control, keyless entry/go, Ultra-Wideband (UWB), 60 GHz in-cabin radar monitoring, garage door openers
Frequently Asked Questions
All you need to know about CE marking
What is the CE marking?

"CE" is the abbreviation of the French term "Conformité Européenne" (French for European Conformity). The CE mark has a clearly defined typeface. You can find the mark in Annex II of Regulation (EC) No. 765/2008 (European Commission website), where the stylized letters "C" and "E" are shown in a grid to show you the correct proportions. The exact dimensions are contained in the relevant legislation for the respective products. In the absence of size specifications, a minimum height of 5 mm is indicated.

What does the CE mark mean?

With the certification mark, the manufacturer declares that he has complied with all regulations in force in the EU during the design and manufacture of the product and that it meets all legal requirements for product safety. These requirements mainly concern consumer protection and environmental protection. The prerequisite for the declaration is that conformity with the applicable directives has been established as part of a conformity assessment.

Which products must bear the CE mark?

It is mandatory for all products manufactured worldwide and marketed in the EU. The mark is only affixed to product groups that are subject to uniform directives in the EU requiring this marking. For very small products, it can be found on the packaging and the instructions for use.

What do conformity assessment and declaration of conformity mean?

Conformity assessment is the process of determining whether a product meets certain requirements. The declaration of conformity is a written confirmation by the manufacturer that a product meets the requirements of all directives applicable in the EU.

What are the post-Brexit regulations for the United Kingdom?

From January 1, 2025, only the UKCA label will be accepted on newly imported products in England, Scotland and Wales. Special rules apply to Northern Ireland. The two-year extension from 2023 to 2025 was announced by the UK government in November 2022.
NOTIFIED BODIES
Further Accreditations
Our services enable you to enter the market quickly and efficiently, while keeping minimizing costs as a key factor.
Learn more about certification bodies
FCC (USA)
Completion of US type approval
MIC
MIC Certification for Japan
Our Product Scope
Offers and services may vary depending on the country. Please contact us for specific details.
Radar 24 GHz, 64 GHz, 77 GHz, 79 GHz, UWB

Radio key 315 MHz, 433 MHz, 868 MHz

Keyless Go 125 kHz, 13,56 MHz

Tire pressure sensors 125 kHz, 315 MHz, 433 MHz, 868 MHz

Entertainment 2,4 GHz

Radar 64 GHz, Tank Level, Position radar

Wireless-M-Bus 315 MHz, 433 MHz, 868 MHz

Wireless-CAN-Bus 2.4 GHz

RFID + NFC 125 kHz, 13.56 MHz, 868 MHz

UWB Devices 24 GHz, 60 GHz, 79 GHz

WirelessHD 60 GHz

WLAN 2.4GHz, 3 GHz, 5 GHz, 10 GHz

Bluetooth 2.4 GHz

Zigbee 868 MHz, 2.4 GHz
Get our Support
CE Certification for EU Market Access
Our experts will be happy to assist you in conducting the conformity assessment for CE marking and certification. We will guide your company through the entire process. Let our competent staff provide you with comprehensive advice in order to develop viable concepts together with you and save time and costs right from the start.
The best thing to do is to get in touch with our staff right away.
Get in touch