Environmental Simulation Testing
We perform our environmental testing services for wireless products to the highest standards. As the experts in this technical domain you can count on our expertise – together we will bring your electronic products to market quickly and efficiently.
Our Testing Capabilities
Product Testing in our Test Laboratory
In our environmental simulation laboratory we offer mechanical, climatic and corrosive testing for their wireless products. Below you will find an overview:
Climatic tests in temperature ranges from -85°C to +350°C

Corrosion tests with salt spray according to ISO 9227

Chemical resistance/media resistance according to ISO 16750-5, LV 124, IEC-60068-2-74

Thermal shock in air and in liquids

IP protection class according to EN 60529, ISO 20653

IK Impact resistance class

Rough handling according to IEC 60068-2-31

Condensation water test
Performance for your Products
The global environmental influences on many materials, vehicles and technical devices are enormous. They have to withstand climatic conditions such as vibrations, high temperatures or even humidity. Therefore, professional environmental and climatic testing is essential to demonstrate possible deficiencies. Compared to testing under real conditions, environmental simulation offers the time-saving possibility to perform climatic as well as mechanical tests on the product.
Thanks to our many years of experience and expertise, we can offer you efficient and reliable test procedures to help you predict the anticipated product performance. This means that you save time and resources by relying on our experienced experts and state-of-the-art testing equipment.
As IBL-Lab GmbH, we are your ideal testing partner for your product development. We offer a wide range of testing services that help you minimize costs and achieve rapid market access. With our expertise and precision, we ensure your success. Be ready for the challenges of the environment and contact us.
Contact us
Our Accreditations
Certification according to ISO 9001:2015
Certification according to DIN EN ISO/IEC 17025
Certification according to TISAX
KBA: Designated Body as Class A Technical Service
Fulfillment of all common testing requirements in a wide range of industries
IBL-Lab GmbH
Our Technology at the cutting edge
Environmental chambers: Temperature and climatic chambers, especially for the integrity of plastic structures (cold, heat)

EMC test benches (immunity to interference)

Dust and water exposure (IP protection type test)

Salt spray chambers (ship, coast, sea freight)
Climate and Temperature Testing
From temperature and humidity-related stresses to testing resistance to sunlight, our testing procedures ensure your products stand up to the test and get you to market faster.
With many years of experience, our qualified and experienced employees accompany us in the areas:
Automotive

Agricultural technology

Construction machinery

Railroad

Fire alarm technology

Industry

IT

Shipping
Corrosion testing & chemical resistance
With the help of a salt spray test according to DIN EN ISO 9227 and specifically selected aggressive liquids, the corrosion resistance of a material or a corrosion protection coating on it can be determined in principle.
The experience and know-how of the engineers of IBL-Lab GmbH help to perform these important tests and to evaluate the test results afterwards. IBL-Lab GmbH draws on many years of experience in testing to perform the indispensable corrosion testing and to assess the effect of the damage after the test.
IP Protection Class Testing
The protection type test examines the effect of dust, sand or water on or in the objects. Here the experienced engineers help with the IP protection type tests according to IEC-60529 standard norm to detect the most different types of failures, such as the failure of functions, wear (erosion), electrical short circuit or abrasion behavior of mechanical parts or conductor defects and thus make the product safer.
Accompanying the IP protection type tests, IBL-Lab GmbH also performs the evaluations of the DUT and documents both the function and the tightness of the housing.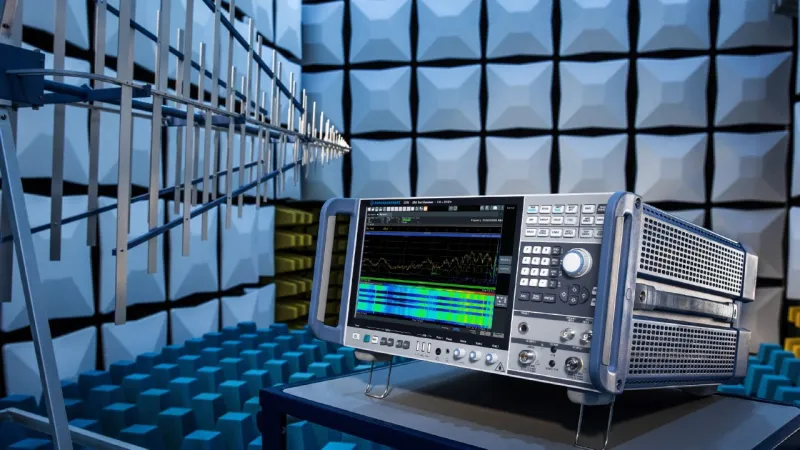 IB-Lenhardt AG
Innovative Radio Systems require Innovative Solutions
Radio Frequencies
To ensure all necessary radio frequency requirements
Electromagnetic Compatibility
For reliable and trouble-free operation of your device
Electrical Safety
To assure safe operation of your electrical product
Frequently Asked Questions
All you need to know about Environment Simulation Testing
Why is environmental testing important?

By simulating various climatic conditions and mechanical stresses, your product is prepared for use in practice. Ideally, the tests are carried out at a very early stage of product development to determine the expected resistance in the anticipated environments.

The equipment material is exposed to extreme conditions during the various tests to detect premature wear such as aging and abrasion. In this way, both the product design and the manufacturing process can be optimized and validated.

What are environmental test chambers?

In a climatic chamber, a specific climate is created for the duration of the test and, if necessary, also changed during this time. As a rule, this involves temperature and humidity. However, factors such as solar radiation, CO² concentration or rain, snow and wind can also be simulated.

Which climate conditions can be simulated?

Temperature, humidity, altitude, salt fog, salt Spray, sand & dust, solar radiation, FAA Fire, HALT/HASS, acceleration, wind & rain, hailstorms, ice & snow, overpressure, mixed flowing gas, explosive atmospheres, fuel icing and lots more.

What is environmental test equipment?

The most important instruments used inside and outside the laboratory include:

Sample preparation equipment

Temperature chambers

Biofuel analyzers

Balances

Evaporators

Stability chambers

Particle counters

pH meters

GC systems, autosamplers and software

HPLC systems for carbamate and explosives analysis

What are the IP protection classes?

The IP code, also known as IP protection class, consists of two digits that indicate the degree of protection of a device against harmful influences. The first digit stands for protection against foreign bodies and contact (1-6), while the second digit describes protection against moisture and water (1-9). The combinations are specified in the DIN EN 60529 and ISO 20653 standards.
Standards und Normen für Umweltsimulationsprüfungen
ETSI EN 300 019-1-4 V1.1.2
Equipment Engineering (EE); Environmental conditions and environmental tests for telecommunications equipment; Part 1-4: Classification of...
ETSI EN 300 019-2-3 V2.1.2
Equipment Engineering (EE); Environmental conditions and environmental tests for telecommunications equipment; Part 2-3: Specification of...
ETSI EN 300 019-2-4 V2.1.2
Equipment Engineering (EE); Environmental conditions and environmental tests for telecommunications equipment; Part 2-4: Specification of...
Contact Us
Environmental Testing
We put quality, efficiency and customer satisfaction first. Convince yourself of our excellent service and contact us to discuss all details. We look forward to serving you as a trusted partner and driving your success.
Send us your inquiry