Certificate
Certificate example file for Saudi Arabia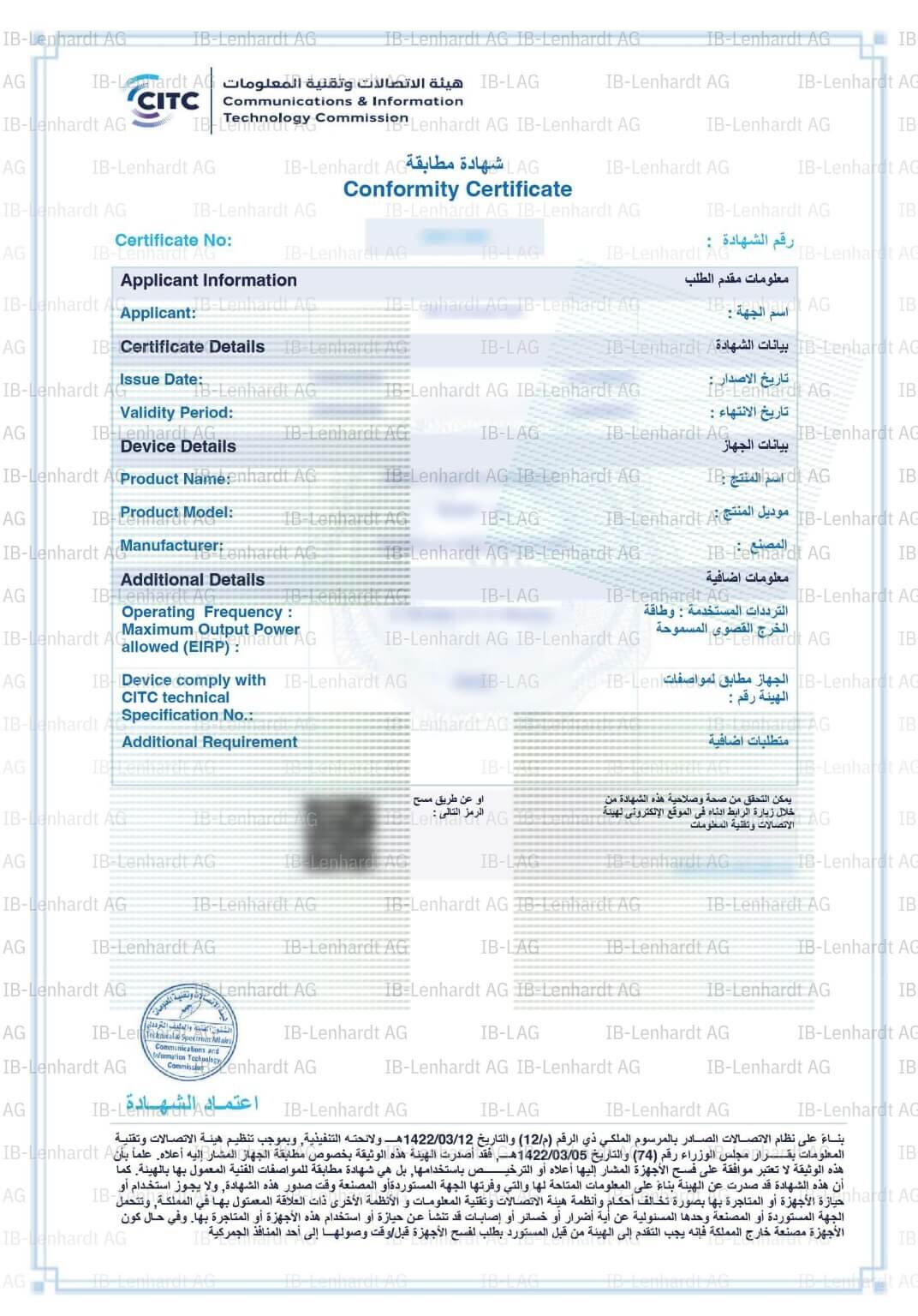 Necessity

Mandatory

Validity Period of Certification

24 Months

Average lead time for radio type approval

8 Weeks
Label
Example label for Saudi Arabia
CITC E-Label ICT Equipment and Radio Modules

Saudi ArabiaRequirements

(pdf, 266.70K)
';
CST / CITC Certification
Type Approval Process for Saudi Arabia
01
Preparing and reviewing all required documents for the application
02
Submit online application on CST (CITC) platform
03
Technical review by CST (CITC) approval team
04
Final administrative process at CST (CITC)
05
Getting a certificate from CST (CITC), otherwise CST declares there is no need for CST certificate
FAQ
CITC Approval and SASO
Who is responsible for market approval for products with radio technology in Saudi Arabia?

The Communications, Space & Technology Commission (CST) in Saudi Arabia is responsible for the regulation and approval of radio technology products, including wireless and telecommunications equipment. Please note that the previous name of the authority was The Communications and Information Technology Commission (CITC) and was changed to CST in December 2022. Certification is currently still referred to as CITC certification.

Is the CE label also used for product certification in Saudi Arabia?

CE marking is not used in Saudi Arabia, but CITC certification is based on CE and RED (Radio Equipment Directive) requirements. There are no specific requirements for CITC certification, so CE marking verification is critical for radio equipment approval in Saudi Arabia.

What is the approval procedure for Saudi Arabia?

The process for CITC certification in Saudi Arabia includes preparation and submission of the required documents, followed by a technical review by the CST approval team. After a final administrative process, you will receive a certificate unless the CST determines that it is not required for your product.

Are local tests required in Saudi Arabia for products with wireless technology?

The approval process in the Kingdom of Saudi Arabia does not require on-site laboratory testing or contact with local representatives.

How long does a certification for Saudi Arabia take and what is the renewal period?

The duration of the certification process depends on the type of product and is usually between 2 and 8 weeks. The CITC certificates must be renewed every two years.

What is SASO and what are SASO requirements?

In Saudi Arabia, the Saudi Standards, Metrology and Quality Organization (SASO) introduced the SALEEM program in 2018 to ensure product safety. It operates through the SABER online system, where importers must register their products and obtain a certificate of conformity for regulated products. There are two options for registration: either a certificate of conformity or a self-declaration, with a certificate of shipment required for each shipment. SASO approval requires a local importer, in-country testing is not required, and SASO approval is valid for one year. There are no labeling requirements.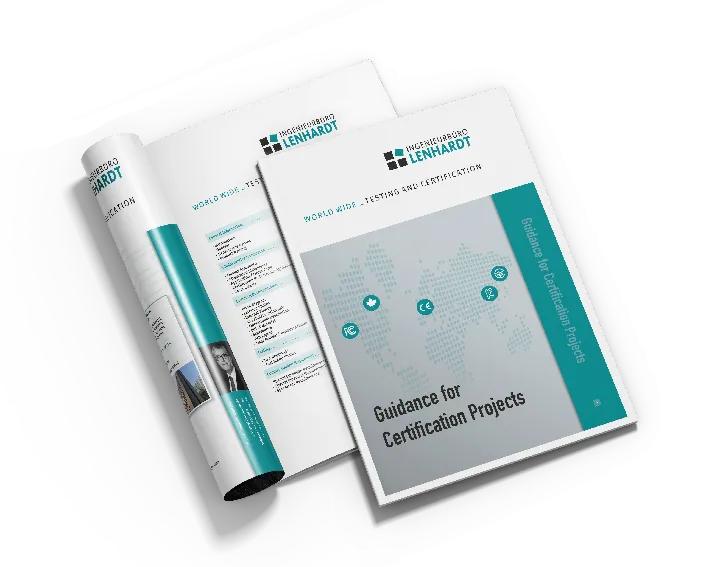 Whitepaper
Everything you need to know about Product Certification
Download our comprehensive guide now, which shows you all the requirements for successful certification. Learn all about administrative and technical documents, as well as country-specific requirements.
Get the Whitepaper
Country Information
General Information about Saudi Arabia
Country calling Code

+966

Capital

Riyadh

Continent

Asia

Currency

Saudi Riyal

Alternate Country Names

SA, Kingdom of Saudi Arabia, Al-Mamlakah al-'Arabiyyah as-Su'ūdiyyah, Saudi-Arabien, Arabie Saoudite, Saudijska Arabija, Arabia Saudita, Arabia Saudí, Саудовская Аравия, サウジアラビア, Saudiarabien, 사우디아라비아
SA, Kingdom of Saudi Arabia, Al-Mamlakah al-'Arabiyyah as-Su'ūdiyyah, Saudi-Arabien, Arabie Saoudite, Saudijska Arabija, Arabia Saudita, Arabia Saudí, Саудовская Аравия, サウジアラビア, Saudiarabien, 사우디아라비아
If you need more country information, create a free TAMSys account and benefit of even more useful information.
Contact
Your personal type approval specialists and authorities for Saudi Arabia
M. Alyousfan

eMail

Type Approval Specialist for Saudi Arabia

Communications and Information Technology Commission (CITC)

http://www.citc.gov.sa

Competent authority for Saudi Arabia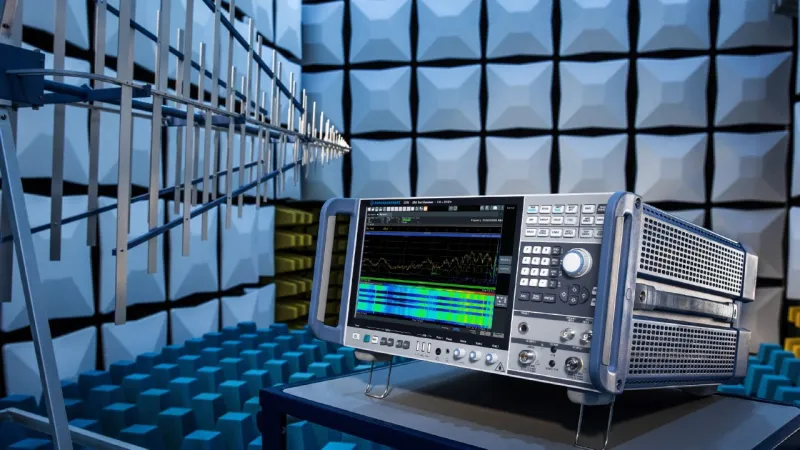 Regulatory Radio Device Testing
Product Certification for Radio Equipment
Complex Automotive Technologies
Homologation Services around the World
Assistent Systems (ADAS)
Vehicle radar systems in the 77 and 79 GHz frequency ranges, such as distance radar, blind spot radar, parking and lane departure warning systems
Telematic
Kick sensors, tire pressure sensors, radio remote control, keyless entry/go, Ultra-Wideband (UWB), 60 GHz in-cabin radar monitoring, garage door openers
NOTIFIED BODIES
Accreditation Services
Our services provide you with fast and efficient access to global markets, while minimizing costs is an important factor.
Learn more about certification bodies
Product Scope
Our offers and services may vary depending on the country. Please contact us for specific details.
Radar 24 GHz, 64 GHz, 77 GHz, 79 GHz, UWB

Radio key 315 MHz, 433 MHz, 868 MHz

Keyless Go 125 kHz, 13,56 MHz

Tire pressure sensors 125 kHz, 315 MHz, 433 MHz, 868 MHz

Entertainment 2,4 GHz

Radar 64 GHz, Tank Level, Position radar

Wireless-M-Bus 315 MHz, 433 MHz, 868 MHz

Wireless-CAN-Bus 2.4 GHz

RFID + NFC 125 kHz, 13.56 MHz, 868 MHz

UWB Devices 24 GHz, 60 GHz, 79 GHz

WirelessHD 60 GHz

WLAN 2.4GHz, 3 GHz, 5 GHz, 10 GHz

Bluetooth 2.4 GHz

Zigbee 868 MHz, 2.4 GHz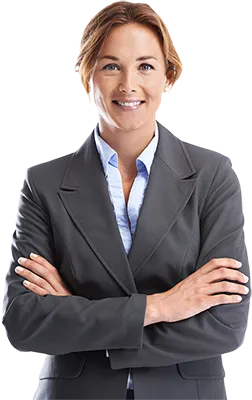 Tailored solutions for your needs
Market Access for Saudi Arabia
International type approval can be a complicated task. There are many things to consider when expanding your business. But don't worry, our experts are here to help!
Get in touch